Pilates Reformer Instructor Training
As part of our extensive training program, Konnect Pilates provides you with the opportunity to become certified as a Balanced Body® Reformer Instructor. This program includes:
A detailed manual, DVD, and streaming video in order to enhance your education throughout the program.
Sample programs and classes for every skill level
Exercise instruction and modifications in the traditional Pilates Reformer repertoire
Guidance of observing, analyzing, as well as instruction with correcting posture and movement imbalances
Safety and maintenance tips for the Reformer equipment
Coaching, cueing, safety, and teaching tips
Instruction on how to teach older adults, clients with back, knee, neck, and shoulder conditions, in addition to pre- and post-natal women
In order to receive a certificate of completion as a Balanced Body® Reformer Instructor, you will need to complete the following:
Anatomy course
Balanced Body® Mat Instructor training
Balanced Body Reformer 1: course work and tests (18 hours)
Balanced Body Reformer 2: course work and tests (16 hours)
Balanced Body Reformer 3: course work and tests (14 hours)
Either 50 Pilates Reformer personal sessions and 100 student teaching hours OR
30 Pilates Reformer personal sessions, 30 observation hours, and 90 student teaching hours
Final written and practical test
Pilates Reformer 1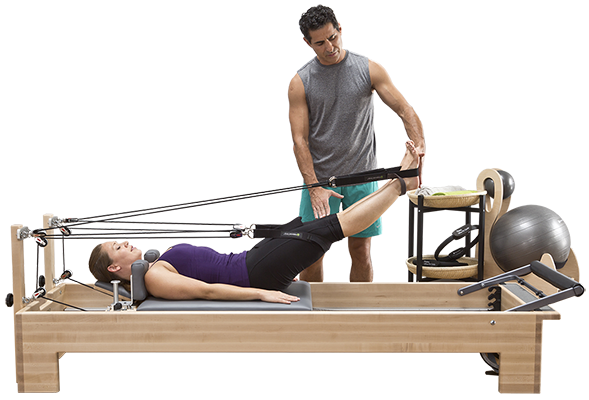 ---
Before you begin the Pilates Reformer 1 course, you must have two years of experience teaching movement, and you must complete our anatomy course, 30 Pilates Reformer classes, and the Pilates Mat instructor training.
During this section, you will receive an introduction on the Pilates Reformer machine, which includes set-up and safety tips. You will also learn all of the beginner level exercises, program sequencing, and tips for teaching in a group setting. The goal for the end of this course is for you to be able to teach a beginner Pilates Reformer class or a personal training session.
Pilates Reformer 2
---
Our Pilates Reformer 2 session will cover intermediate exercises that you can utilize in both group and individual settings. We will also instruct you on how to teach classes for all skill levels, as well as how to teach clients with physical limitations. We will also provide you with a variety of sample programs.

Pilates Reformer 3
---
In our final session, you will learn advanced Pilates Reformer exercises in addition to tips and strategies for teaching clients with sports specific needs. We will also go over some safety tips that will allow you to teach more advance techniques effectively.

Continue your passion for Pilates by becoming a Pilates Reformer instructor! Contact Konnect Pilates to start your training today.